School of Music
The School of Music building has classrooms, faculty and adminstrative offices, music studios and the Dwight Anderson Music Library. Comstock and Bird recital halls are also located in it.
105 W. Brandeis Ave. , Louisville, Kentucky 40292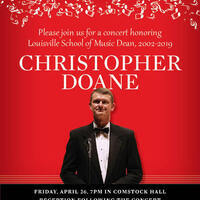 Please join us for a concert honoring the University of Louisville School of Music Dean, Christopher Doane, for his years of service to the University and to...
Wolfgang Amadeus Mozart - Sonata in B-flat Major, K. 454 Ludwig van Beethoven - Trio in B-flat Major, Op. 11 Wolfgang Amadeus Mozart - Sonata in A Major, K....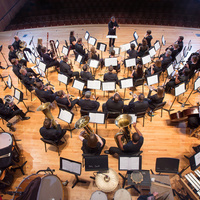 Now in their eleventh season, the musicians of the Louisville Concert Band and Chamber Winds Louisville enjoy sharing their enthusiasm for the performance of...
The University of Louisville Bands hosts its annual Wind Band Institute Concert featuring middle and high school students.
Recent Events