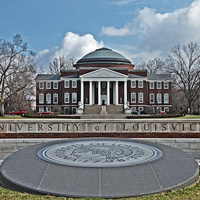 Grawemeyer Hall
Grawemeyer Hall was built in 1926 and, at one point, served as the university library. It now houses the administrative offices of the president, university provost, and vice presidents for university advancement, business affairs and finance.
2301 S. 3rd Street , Louisville, Kentucky 40208
Place Type

Administration
Come be a part of history and the inauguration of Dr. Neeli Bendapudi, 18th president of the University of Louisville. If you plan to attend the...
Recent Events
We sat almost 4 hours before the movie started. When it finally did, it kept cutting off The kids were getting restless.and after the movie cut off for the second or third time, we decided to leave a little after 10pm and the first movie was not even half way over.I think the power to the projecter kept gpong off thats why the movie kept stopping. This was my first time attending a movie event ,however I don;t think the minor glitches will stop me from attending another one. Overall the kids had fun playing with the inflattables and the other activities.
Maria S Tinnell left a positive review
5/29/2015
Perfect evening, the weather, characters and movie was terrific!
Lanitra R Brown left a positive review
5/29/2015
I have 3 girls ages 1,2,7 they enjoyed everybit of it!!!!
Sandy Downey left a positive review
9/18/2014
Other than having to carry chairs around, it was very good. It would have been nice on a Friday or Saturday so I would have been able to bring my grandson.
David Schlaegel left a positive review
9/18/2014
Absolutely fantastic and a visual delight. The event was named correctly as SPECTACULAR. The images and presentation elicited great pride in the University and our mission. This is a great moment in U of L history, and I am privileged to be a part of it.
Nice event. My family and I enjoyed it.
Sheryl L Meier left a positive review
9/18/2014
Wonderful event! UofL pulled out all the stops for this one.