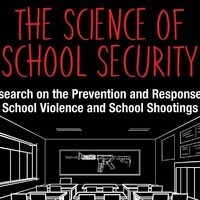 The Science of School Security: Research on the Prevention and Response to School Violence and School Shootings"
On April 19 at 6 p.m. leading up to the 19th anniversary of the Columbine shooting and what will be a day of planned nationwide demonstrations on April 20, the UofL Department of Sociology will present a symposium, "The Science of School Security: Research on the Prevention and Response to School Violence and Shootings."

Growing sentiment in the wake of the most recent shooting is that "thoughts and prayers" offered by national and state policymakers are not enough. The public is hungry for effective school security solutions. The push for increased school security amplifies in the wake of each tragic school shooting, but research on the most effective approaches to school security is largely absent from these discussions. This event features four national experts on school security, school violence, and school shootings. Designed to be of specific interest to parents, policymakers, students, and the public, the goal of this event is to bring empirical research into the larger discussion about school security and safety. The panelists will present the findings from their research on the effectiveness of specific school security measures and actions, including the presence and actions of school resource officers, the use of metal detectors, increased surveillance within schools, and the use of student searches. The panelists will also address the drawbacks of these school security measures, as well as the best actions that schools should take in reaction to active shooting incidents when school security measures fail.
The panel:
Thomas J. Mowen, Ph.D., Assistant Professor of Sociology, Bowling Green State University
Expertise: The impact of metal detectors on school security
Benjamin W. Fisher, Ph.D., Assistant Professor of Criminal Justice, University of Louisville
Expertise: Efficacy and inequality of using School Resource Officers (SROs)
Cheryl Lero Jonson, Ph.D., Assistant Professor of Criminal Justice, Xavier University
Expertise: Strategies to avoid school shootings
The panel and subsequent discussion will be facilitated by Prof. Ryan Schroeder, Chair of UofL's Department of Sociology. Each panelist will speak for 15 minutes providing an overview of their research findings. There will then be a 10 minute break followed by Q&A and community discussion. The intention is that stakeholders and policy makers go away from this symposium informed by research and ready to take appropriate steps toward securing our schools.

Following the symposium, there will be an informal reception providing opportunities for further conversation and networking.

PLEASE NOTE: Because this symposium occurs during dinner time, participants can order and pay for a boxed meal and bottled water ($9.75) when they register. Meals can be picked up in the lobby of Strickler Hall from 5:30-7:15 PM. If possible, please bring your printed receipt/ticket when you claim your meal. This will make meal distribution quicker and more efficient.
Thursday, April 19, 2018 at 6:00pm
Ekstrom Library, Chao Auditorium
2215 S. 3rd Street , Louisville, Kentucky 40208
Event Type

Audience

Departments

Tags

Website
Hashtag

Contact Name

Ryan Schroeder

Contact Phone Number

Contact Email

Subscribe