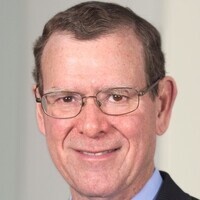 The Philosophic Fight for the Future of America - John Allison
There is a fundamental philosophic battle being conducted at universities and in the media which will determine the future of our country and western civilization. On one side are the defenders of the classical liberal position best expressed in the Declaration of Independence - the unalienable right to 'life, liberty and the pursuit of happiness.' On the other side are the authoritarians who believe that highly educated elites working in Washington, DC know what is best for all of us. John Allison will examine the fundamental ideas underlying each of these positions and their implications for human flourishing.
John Allison is Executive in Residence at the Wake Forest School of Business. He is a member of the Cato Institute's Board of Directors and Chairman of the Executive Advisory Council of the Cato Institute's Center for Monetary and Financial Alternatives. Allison was president and CEO of the Cato Institute from 2012 to 2015. Prior, he was chairman and CEO of BB&T Corporation.
Allison has received the Corning Award for Distinguished Leadership, has been inducted into the North Carolina Business Hall of Fame, and has received the Lifetime Achievement Award from the American Banker. He is the author of "The Financial Crisis and the Free Market Cure: Why Pure Capitalism is the World's Only Hope," and "The Leadership Crisis and the Free Market Cure: Why the Future of Business Depends on the Return to Life, Liberty and the Pursuit of Happiness." In addition, he is a former Distinguished Professor of Practice at Wake Forest University School of Business and serves and the Board of Visitors at the business schools at Wake Forest, Duke, and UNC-Chapel Hill.
John Allison's talk is part of the BB&T Speaker Series at the College of Business, and is co-sponsored by the John H. Schnatter Center for Free Enterprise.
By participating in this event, you are authorizing the University of Louisville to photograph and record video and/or audio of your likeness, voice and performance without payment or other compensation, for possible use in educational materials, broadcasts, websites or social media. You hereby release all claims to such photographs and recordings, and waive any right that you may have to inspect or approve any such use.
Wednesday, January 25, 2017 at 4:30pm to 5:30pm
Harry Frazier Hall - College of Business, PNC
110 W. Brandeis Ave. , Louisville, Kentucky 40208
Cost

Free

Contact Name

Donna Zinser Clark

Contact Phone Number

852-5612

Contact Email

Subscribe