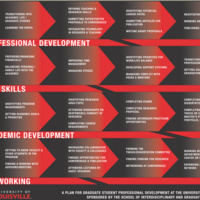 PLAN Workshop - Women's Panel
Description. The School of Interdisciplinary and Graduate Studies is hosting a discussion panel for current and recent women graduate students and their faculty mentors. Panelists will share their experiences establishing and developing successful mentoring relationships. The event will give graduate students and faculty at UofL a chance to discuss their own questions about forming effective mentoring relationships between graduate students and faculty, and the opportunity to see how others have developed successful mentoring relationships. It will also offer women a supportive and informative forum to openly discuss the unique experiences and choices they face in their own mentoring relationships.
Presenter(s). Panelists include Shanice Hudson (Doctoral Program in Interdisciplinary Studies) and Dr. Gavin Arteel (Department of Pharmacology and Toxicology); Dr. Tara Schapmire (School of Medicine and Kent School of Social Work) and Dr. Anna Faul (Kent School of Social Work); and Keri Mathis, Dr. Beth Boehm, and Dr. Debra Journet (Department of English). This panel is co-sponsored by the University of Louisville's Commission on the Status of Women and The Women's Center.
To register for this event, click here.
Friday, April 13, 2018 at 2:00pm to 3:30pm
Shumaker Research Building, 139
2210 S. Brook Street , Louisville, Kentucky 40208
Event Type

Audience

Departments

Website
Hashtag

Contact Name

Michelle Rodems

Contact Phone Number

502-852-3110

Contact Email

Subscribe