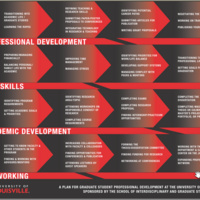 PLAN Workshop - Organizing and Writing a Large-Scale Writing Project such as a Dissertation or Thesis
Description. Writing a dissertation or thesis can seem a daunting prospect that raises questions about structure, organization, as well as simply how best to get started. This workshop will offer strategies for how to approach a large-scale writing project such as a dissertation or thesis. We will discuss the genre and rhetorical conventions expected in dissertations and where those may differ from other academic writing experiences of graduate students. We will also offer suggestions and tips for getting started on your project, making consistent progress, working with committee member comments, and staying motivated.
Learning Outcomes. As a result of this workshop, participants will be able to:
1. Gain a greater understanding of the gener conventions of dissertations,
2. Learn strategies for organizing large-scale projects,
3. Learn strategies for making consistent progress in writing a dissertation or thesis,
4. Learn strategies for reading and responding to committee member comments.
Presenter(s). Writing Center Staff
Please register for this event here.
Thursday, January 18 at 2:00pm to 4:00pm
Houchens Building, 105
2211 S. Brook Street , Louisville, Kentucky 40208
Event Type

Audience

Departments

Website
Hashtag

Contact Name

Michelle Rodems

Contact Phone Number

502-852-3110

Contact Email

Subscribe