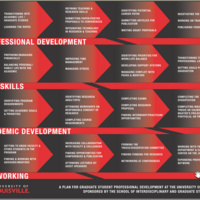 PLAN Workshop - Career Colloquium
Description. In this intensive, half-day workshop requested by YOU, we'll cover career basics from top to bottom. Beginning with an overview of the job market and various career paths for graduate students, you'll spend time reflecting on your PLAN for a successful job search. Topics to be covered include job materials (resumes, CVs, and cover letters), job interviewing, transferable skills, and making a PLAN for your next steps. Don't miss out on this opportunity to reflect on your path and tackle the details of your search. Whether you're job searching this coming year or preparing for your future, NOW is the time to PLAN. Lunch will be provided and registration is limited for this interactive program. Participants are encouraged to bring job materials with them. **Registration closes Monday, July 9, 2018. At least 10 people are needed for the program. Should this requisite number not be reached, the colloquium will be cancelled.
Presenter(s).
Michelle Rodems, Ph.D., is associate director for graduate student professional development for the School of Interdisciplinary and Graduate Studies (SIGS). Michelle manages all interdisciplinary professional development for more than 4,000 University of Louisville graduate students, including coordinating the PLAN professional development framework of academies, workshops, learning communities, and reading groups, as well as conducting individual consultations. Michelle's research and professional interests include teaching and learning in higher education, graduate student development and education, educational technology and social media, and professional development in higher education.
Additional Presenters, TBA
Please register for this even here.
Friday, July 13, 2018 at 9:00am to 2:00pm
Houchens Building, Room 105
2211 S. Brook Street , Louisville, Kentucky 40208
Event Type

Audience

Departments

Website
Hashtag

Contact Name

Michelle Rodems

Contact Phone Number

502-852-3110

Contact Email

Subscribe