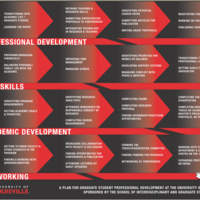 PLAN Workshop - Building Your Teaching Portfolio for the Job Market: How Graduate Students Can Provide Evidence of Teaching (Even Without Much Experience)
Description. How do you gather, organize, and share information about your teaching for the job market, particularly when you may not have much experience? Where do you capture your reflections about what teaching strategies and assignments work--and which ones don't--so that you can chart a course of improvement as a teacher? In this interactive session, we will consider the benefits of starting and maintaining a teaching portfolio, consider some different types of portfolios, and identify the items that should be included.
Learning Outcomes. As a result of this session, participants will be able to:
1. Describe key components of successful teaching portfolios;
2. Compare and contrast sample teaching portfolio outlines to consider what you might include;
3. Identify ways to highlight your teaching experience, regardless of the quanitity;
4. Begin putting together your own teaching porfolio
Presenter(s). Michelle Rodems, Ph.D., is associate director for graduate student professional development for the School of Interdisciplinary and Graduate Studies (SIGS). Michelle manages all interdisciplinary professional development for more than 4,000 University of Louisville graduate students, including coordinating the PLAN professional development framework of academies, workshops, learning communities, and reading groups, as well as conducting individual consultations. Michelle's research and professional interests include teaching and learning in higher education, graduate student development and education, educational technology and social media, and professional development in higher education.
Please register for this event here.
Thursday, February 15 at 2:00pm to 4:00pm
Houchens Building, 105
2211 S. Brook Street , Louisville, Kentucky 40208
Event Type

Audience

Departments

Website
Hashtag

Contact Name

Michelle Rodems

Contact Phone Number

502-852-3110

Contact Email

Subscribe