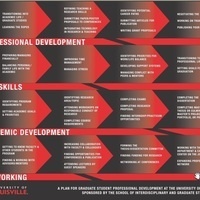 PLAN Workshop - Building Your Resume
Description. Having a useful, effective, and strong resume is absolutely vital for graduate students pursuing a job outside of the academy, and often useful for graduate students only interested in faculty life. But how do you begin? Whether you have only a basic template, a full C.V., or just need to refresh your resume, this is the workshop to attend. Come learn about the differences between a C.V. and a resume, key components, and strategies and tips to make you stand out among a large group of applicants. Graduate students who attend will have time to workshop their resumes during the session, so you are encouraged to bring a device on which to work.
Learning Outcomes. As a result of this workshop, participants will be able to:
1. Learn the context for resumes and the differences between a resume and a C.V.
2. Review the main elements of a strong resume
3. Outline strategies and tips for improving their resume
4. Workshop their resume.
Presenter(s). Michelle Rodems, Ph.D., is associate director for graduate student professional development for the School of Interdisciplinary and Graduate Studies (SIGS). Michelle manages all interdisciplinary professional development for more than 4,000 University of Louisville graduate students, including coordinating the PLAN professional development framework of academies, workshops, learning communities, and reading groups, as well as conducting individual consultations. Michelle's research and professional interests include teaching and learning in higher education, graduate student development and education, educational technology and social media, and professional development in higher education.
Please register for this event here.
Monday, January 22 at 3:00pm to 5:00pm
Ekstrom Library, 117A
2215 S. 3rd Street , Louisville, Kentucky 40208
Event Type

Audience

Departments

Website
Hashtag

Contact Name

Michelle Rodems

Contact Phone Number

502-852-3110

Contact Email

Subscribe