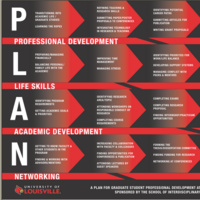 PLAN Workshop - Be Searchable: Developing and Online Portfolio for the Job Search
Description. What is your web presence like? Are you only visible on Facebook, or do you have a professional online presence? If you are going on the job market (or planning early for that distant day), the answer to these questions could set you apart from other applicants. This workshop will discuss why you should consider developing an online portfolio or posting an online cv, what documents or information should be included, and how even the busy or technologically-challenged can build an online presence starting today. Acknowledging the varying levels of experience or need with building online content, this workshop will be presented in two parts: 1) 2-3pm - Discussion of online portfolios, materials to include, presentation of examples, and sharing of participants' insights 2) 3-4pm: Step-by-step guidance in building a basic Wordpress blog to support professional materials online. This will provide an opportunity for those who are particularly uncomfortable embarking on this process alone (as well as those who just need a structured setting and time to make sure this process gets done!) to begin building their portfolio with the guidance and support of workshop facilitators.
Learning Outcomes. You will walk out of the session with an understanding of the value of online portfolios for the job search, knowledge about how to develop one, and an actual page on which to build yours.
Presenter(s). Ashanka Kumari is a doctoral candidate and teacher in the Rhetoric and Composition program at UofL. Her research interests include graduate student professionalization, multimodal composition and pedagogy and the intersections among identity studies, digital literacies, social media, and popular culture. Her dissertation project looks at first-generation to college doctoral students in Rhetoric and Composition and the ways they navigate graduate study, academia, and negotiate graduate study with their lives.
Please register for this event here.
Thursday, November 15, 2018 at 2:00pm to 4:00pm
Ekstrom Library, W102
2215 S. 3rd Street , Louisville, Kentucky 40208
Event Type

Audience

Departments

Website
Hashtag

Contact Name

Michelle Rodems

Contact Phone Number

502-852-3110

Contact Email

Subscribe