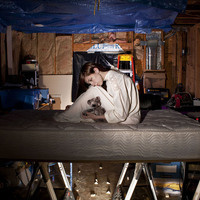 Opening Reception for Throwing Light / Catching Shadows
The University of Louisville's Cressman Center For the Arts is pleased to present an exhibition of work by the speakers at this year's Midwest Regional Society for Photographic Education conference. "Throwing Light / Catching Shadows" explores the correspondences between various historic and contemporary photographic practices, from salt prints to high definition video. In addition, because the exhibition is conceived as a showcase of this year's presenters, it takes up the conference's central theme: the intersection of public and private space. Many works from the show engage the tension between private, interior decoration and gestures to public display, like Steve Gompf's Salesman Sample Televisor, 1901, A (2015) and Margaret LeJeune's Cynthia from The Modern Day Diana (1991). Other projects, like Tiffany Carbonneau's Constant Bearing, Decreasing Range (2015) and James Rhem's God (or Suffer the Little Child) (2015), depict moments when confinement and enclosure overlap with vast openness. In every case, work in "Throwing Light / Catching Shadows" is a testament to the photographic image's power to capture our most public and our most private experience.
The Society for Photographic Education is a nonprofit membership organization that provides and fosters an understanding of photography as a means of diverse creative expression, cultural insight, and experimental practice. This year's Midwest Regional Conference, "Throwing Light, Catching Shadows," takes place from Oct. 1-4.
Friday, October 2, 2015 at 6:00pm to 9:00pm
Cressman Center for Visual Art, Cressman Center for Visual Arts
100 E. Main Street , Kentucky 40202
Event Type

Audience

Departments

Website
Cost

Free and open to the public.

Contact Name

Renée K. Murphy

Contact Phone Number

502-852-6794

Contact Email

Subscribe