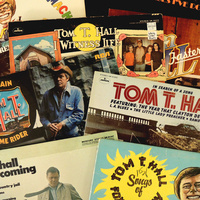 Old Dogs, Children, and Watermelon Wine: A Panel on the Life and Music of Tom T. Hall

Tuesday, January 30
Gallery Open, 5:00p.m., Panel, 6:00-7:00p.m.
The Filson Historical Society
Free for members, students, and the public

Panelists: Peter Cooper, Diane Pecknold, Alanna Nash, Aaron Rosenblum (moderator)

Fifty years after his first top ten hit, three renowned scholars will consider singer and songwriter Tom T. Hall's unique style and outstanding contributions to country music. Hall (b. 1936, Olive Hill, Kentucky) is one of the best-selling country artists of all time. He penned eleven number one hits, with twenty-six more of his songs reaching the top ten, including "Harper Valley P.T.A.," "The Year That Clayton Delaney Died," and "I Love." He is a Country Music Hall of Fame inductee, and a long-time member of the Grand Ole Opry. In 2016 Hall donated an instrument collection including his primary songwriting guitar and his touring banjo to the Filson. The banjo will be on display in our "What's Old Is New: Recent Acquisitions" exhibit, which will be open to the public preceding the panel.

Music journalist Alanna Nash is the author of the first biography of Dolly Parton and has written about and been a friend of Tom T. Hall for over thirty years. Diane Pecknold, Chair of Women's and Gender Studies at the University of Louisville, is the author of two books on politics, gender, and country music. Award-winning musician and writer Peter Cooper is a longtime friend of Tom T. Hall and penned the introduction to the second edition of Hall's memoir The Storyteller's Nashville. Associate Curator of Special Collections Aaron Rosenblum will moderate the panel.

This program is presented in collaboration with the UL Commonwealth Center for the Humanities and Society and is free to the public thanks to the support of an anonymous donor.
Tuesday, January 30, 2018 at 6:00pm to 8:00pm
Filson Historical Society 1310 S 3rd St, Louisville, Kentucky 40208
Event Type

Audience

Departments

Website
Cost

FREE

Contact Name

Janna Tajibaeva

Contact Phone Number

502-852-2247

Contact Email

Subscribe