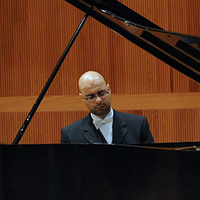 Music eX Series: Dror Biran, piano
Dror Biran's playing has been described in Die Bleed as "powerful, but also beautiful sensitive, brilliant but full of artistry, seductively lyrical but intensely dramatic at the climaxes". The Plain Dealer added "his fortissimos crashed and roared, but next to them came pianissimos that whispered seductively...he has technique to burn and uses it effectively..."
His superb tonal control combined with interesting phrasing and voicing has won him consistent critical acclaim and enthusiastic audience.
Born in Israel, Dr. Biran is a top prize winner of several national and international piano competitions. He is a graduate of the Givataim Conservatory where he studied with Mrs. Lily Dorfman and The Rubin Academy of Music at Tel-Aviv University where he studied with Prof. Arie Vardi. In addition he received his Doctoral degree from The Cleveland Institute of Music where he studied with Mr. Paul Schenly and Dr. Daniel Shapiro.
Program:
Franz Schubert: Sonata in G Major, D. 894
Sergei Rachmaninov: Prelude in G-sharp Minor, Op. 32, No. 12
Sergei Rachmaninov: Prelude in G Minor, Op. 23, No. 5
Sergei Prokofiev: Piano Sonata in B-flat Major, No. 7, Op. 83
Music eX Series
To eXplore different repertoire and composers ranging from the Baroque era to the present.
To eXpress the composer's and musician's musical intentions.
To eXemplify the outstanding quality that the University of Louisville School of Music has to offer.
To create a new musical eXperience for audiences that will reconnect them to classical music.
All proceeds from subscriptions and ticket sales will be allocated to piano and string student scholarship funds, and used in support of the piano program and Music eX Series at the University of Louisville School of Music.
Sunday, December 10, 2017 at 3:00pm
School of Music, Comstock Concert Hall
105 W. Brandeis Ave. , Louisville, Kentucky 40292
Event Type

Audience

Departments

Tags

Website
Cost

$15 for general admission, $5 for students with ID, call 502.852.6907 for ticket information.

Hashtag

Contact Name

Paul York

Contact Phone Number

502-852-4642

Contact Email

Subscribe