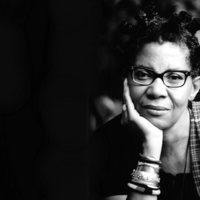 M. NourbeSe Philip: Creative Keynote Address LCLC
M. NourbeSe Philip will be the opening keynote for the 2018 Louisville Conference on Literature and Culture Since 1900. The opening keynote will take place in Strickler Hall, room 102 on UofL's Belknap campus.

Tobago-born M. NourbeSe Philip earned a BSc from the University of the West Indies and an MA and LLB from the University of Western Ontario, and practiced law for seven years before turning full-time to writing. Her collections of poetry include Thorns (1980); Salmon Courage (1983); She Tries Her Tongue, Her Silence Softly Breaks (1989), which won the Casa de las Américas Prize for Literature; and Zong! (2008), the widely influential polyvocal, book-length poem concerning slavery, the legal system, and the 1781 murder of one hundred and fifty Africans aboard the slave ship Zong. Philip has also published the young adult novel Harriet's Daughter (1988), the mixed-genre Looking for Livingstone: An Odyssey of Silence (1991), short stories, three plays, and four essay collections: Frontiers: Essays and Writings on Racism and Culture (1992), Showing Grit: Showboating North of the 44th Parallel (1993), CARIBANA: African Roots and Continuities—Race, Space and the Poetics of Moving (1996), and Genealogy of Resistance and Other Essays (1997). Her numerous honors and awards include fellowships from the Guggenheim Foundation, Rockefeller Foundation, and MacDowell Colony and awards from the Canada Council for the Arts, Ontario Arts Council, and Toronto Arts Council. In 2012, she received a NALIS Lifetime Literary Award. Readers can visit her website at www.nourbese.com.
Friday, February 23, 2018 at 5:00pm
Strickler Hall, 102
2010 S. Avery Court Walk , Louisville, Kentucky, 40208
Event Type

Audience

Departments
Contact Name

Tracy Heightchew

Contact Phone Number

502-852-8977

Contact Email

Subscribe