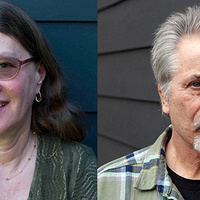 Jeffrey Skinner & Sarah Gorham, Axton Reading Series
Jeffrey Skinner's poetry has earned him a Guggenheim Fellowship, and other fellowships and awards from such agencies as the Ingram-Merrill Foundation, the Howard Foundation, and the National Endowment for the Arts. He has published seven books of poetry, the latest of which, Chance Divine, won the Field Prize.

Sarah Gorham is a poet and essayist, and most recently the author of Alpine Apprentice (2017) and Study in Perfect (2014), the latter selected by Bernard Cooper for the 2013 AWP Award in Creative Nonfiction. Both were published by University of Georgia Press. Gorham is also the author of four collections of poetry— Bad Daughter (2011), The Cure (2003), The Tension Zone (1996), and Don't Go Back to Sleep (1989). Other honors include grants and fellowships from the National Endowment for the Arts and three state arts councils. She is co-founder and editor-in-chief at Sarabande Books, an independent, nonprofit, literary publisher.
Thursday, October 19, 2017 at 7:30pm
Ekstrom Library, Bingham Poetry Room
2215 S. 3rd Street , Louisville, Kentucky 40208
Event Type

Audience

Departments

Website
Contact Name

Kiki Petrosino

Contact Phone Number

(502) 852-2186

Contact Email

Subscribe