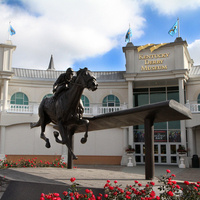 Hands and Feet: Poetry Derby Workshop
Our Poetry Derby prioritizes a playful approach to language and form, capitalizing on the fact that horses are measured in hands and poems are traditionally measured in feet. In keeping with the horsey theme, participants will write modified sonnets of 16 lines (rather than 14) as a nod to the average height of thoroughbreds (16 hands). That said, poems' contents do NOT have to be horse-themed. The three workshops will include an introduction to the sonnet form and poetic meter, writing exercises, and an opportunity to share work. Workshops will be on the following times:

Thursday, January 17 at 3:00-4:30
Thursday, February 21 at 3:00-4:30
Thursday, March 7 at 3:00-4:30

The Jan. 17 workshop is the first in a series of instructional sessions in anticipation of the Poetry Derby, a public reading and award ceremony on April 22nd at Churchill Downs. Writers will be invited to submit poems to be considered for the Poetry Derby from March 1-15.
The Commonwealth Center for Humanities and Society is pleased to partner with the Derby Museum, the UofL Department of English, and JCPS on the Poetry Derby workshops.
Thursday, January 17 at 3:00pm to 4:30pm
Churchill Downs, Kentucky Derby Museum 704 Central Ave, Louisville, KY 40208
Event Type

Audience

Departments
Hashtag

Keywords/Tags

poetry, derby, horses, creativewriting

Contact Name

Brandon J Harwood

Contact Phone Number

5028528977

Contact Email

Subscribe