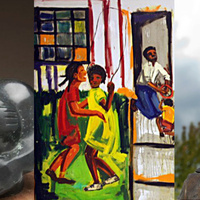 From the Brown Derby to the Speed: A Panel on African American Arts in Louisville
Gallery Open, 5:00p.m., Panel, 6:00-7:00p.m.
The Filson Historical Society
Free for members and for students, $10 for non-members

Panelists: Ché Rhodes (moderator), Dr. Robert L. Douglas, William Duffy, Ed Hamilton

Accompanying our exhibit Understanding the Indescribable: Paintings by G. Caliman Coxe, University of Louisville professor of sculpture Ché Rhodes will lead a panel on Coxe and his milieu, as well as the broader Black arts scene in Louisville over the second half of the twentieth century. In addition to creating groundbreaking works, this group of artists created their own arts organizations when faced with an unwelcoming broader arts community. The panel will feature three artists directly involved in the history being discussed: Dr. Robert L. Douglas, artist and emeritus professor of Pan-African Studies at the University of Louisville, and renowned sculptors Ed Hamilton and William Duffy. This program is presented in collaboration with the UL Commonwealth Center for the Humanities and Society. Support for this program generously provided by Republic Bank.
Thursday, December 7, 2017 at 6:00pm to 7:00pm
Filson Historical Society 1310 S 3rd St, Louisville, Kentucky 40208