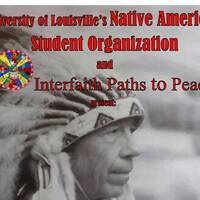 An Evening with Chief McCullough
The University of Louisville's Native American Student Organization and Interfaith Paths to Peace Present International Spiritual Leader, Sun Dance Chief, and recognized Medicine Man Chief Steve McCullough. Chief McCullough will present a talk at the Chao Auditorium in the Ekstrom Library at the University of Louisville on September 22nd, 2016 at 7pm.
Chief McCullough will address his life including his work with the American Indian Movement and his involvement at the occupation of Wounded Knee in the early 1970's, his work internationlly, and (of course) the need for awareness regarding the DAPL and the dangers it brings to all peoples. Admission is free and open to the public.
Thursday, September 22, 2016 at 6:30pm to 9:00pm
Ekstrom Library, Chao Auditorium
2215 S. 3rd Street , Louisville, Kentucky 40208
Event Type

Audience

Departments
Group

Contact Name

Jeremiah A.R. Cunningham

Contact Phone Number

502-693-1798

Contact Email

Subscribe